the glocal BeeCare Amsterdam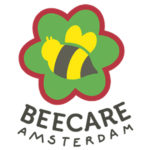 BeeCare Amsterdam is a focused solution-driven environmental campaign in a defined inner-city neighbourhood. It leads to a surrounding which provides an ideal and sustainable infrastructure for pollinators. As a socio-ecological and interdisciplinary research project it is embedded as a practise based PhDArts trajectory at the Leiden University. The project applies a symbiosis between creative performance and design in combination with scientific knowledge and methods. These approaches, methods and activities have a spectrum of layers that are described below.
First of its kind – Pilot Project and Case Study
BeeCare Amsterdam is a pilot-project in the Amsterdam 'Staatslieden' neighbourhood that started in 2011 with the goal to transform an inner-city neighbourhood into an official Bee-sanctuary. It is a case study with the objective that the strategies for solving various obstructions can propagate and inspire, via practice and publication, as additional ecological hotspots to other Amsterdam, Dutch and European inner-city neighbourhoods. The aim is to include through various methods the local citizens in the context of the 'participating society' in the process. It is intended that the created Bee-sanctuary will be self-propelling and long-term sustainable. The results are supposed to trigger paradigm shifts of the inhabitants as well as an inspiration source for policy changes within administrations in governments and private enterprises, contributing to the economic, cultural and political discourses.
'When we go (the Bees), we're taking you all with us'.   Louis Masai Michel, London based Street Artist

In the light of the decline in the worldwide bee populations also called 'bee depopulation syndrome' or Colony Collapse Disorder (CCD), the world's biodiversity and the variety of our future food resources are threatened. In the Netherlands more than half of the listed 357 solitary bees are on the red list. Other pollinators like the bumblebee and the butterfly face a similar faith. This has widespread consequences on the environment and on people. Bees have taken tremendous care of pollination on flowers, plants and trees for the last 130 millions of years and delivered us honey for millennia. Now it is our turn to provide top-level hospitality and concrete solutions to save them from extinction. Independent scientific research confirms that nowadays inner city centres, when compared to the countryside and suburbia, provide a far better infrastructure for the survival of pollinators. According to scientists, the cause for this changes are a combination of reasons, the mono-cultivation by the farming community, the extensive use of pesticides and fungicide that is causing polluted surface and ground water over time and the Varroa mite which is getting gradually more resistant to the 'bee-medicine'. Inner cities already hold a larger variety on flora spread over the seasons, have less polluted ground and surface water with far less pesticide usage such as the neonicotinoids and consequently form a high potential to be important pollinator reservoirs. It's not only the strawberry we like to eat; our survival seemingly depends on the bees' survival. Did Albert Einstein predict that if something eliminated bees from our planet, mankind would perish?
Solution based project
Up to this point in time the industries and scientific communities have not been able to implement working remedies to counter this rapid bee decline. We know by now, that we are not able to solve problems with the same thought paradigms as when they were created. We need to find new approaches and apply unconventional methods to develop solutions. BeeCare Amsterdam is meant to lead to a novel conservation strategy by transforming an inner-city neighbourhood into an official Bee-sanctuary or 'Bee-protection-zone'. A Bee-sanctuary is an improved or upgraded biotope with a focus on pollinators, where a maximum on hospitality is provided. It is a creation of a 'microclimate' that applies to solitary bees, bumblebees, honeybees and the pollinating insects in general, such as butterflies. Maximum hospitality requires high-quality nesting places for the solitary bees that are strategically placed in the neighbourhood and a sustainable food supply throughout the seasons. It includes unconventional honeybee keeping (biodynamic, without honey collection and without pharmaceutical treatment) and the diminishing of pesticide use. These aspects go together with a variety of pioneering methods and campaigns to raise awareness and educating local residents with the formula: 'What's good for the bees is also good for the people!' The BeeCare Amsterdam project works with specialists from several fields and regularly consults with their advisory board consisting of entomologists, biologists and ecologists.
Visibility study and timing

A visibility study was carried out by mapping the neighbourhood on its social, ecologic and economic infrastructure, if its roughly 18,000 citizens that live in this part of town, have the potential to carry the responsibility of creating and maintaining a biotope. The defined area the Staatsliedenbuurt, including the GWL-terrain was mapped in streets, housing blocks and green spaces. We can conclude that there is enough support within the neighbourhood to support the BeeCare Amsterdam project. Bob Ursem, previous director of Amsterdam Hortus Botanicus predicts success with great impact for Amsterdam and in an international context. In the period of 2011 to 2014 an extensive list of activities has taken place that established the general framework and the local support. In the time period between 2015 and 2017 the activities will be intensified, including extensive object placements and scientific measurements.
Improving the relationship with the natural world
One could easiest compare the BeeCare Amsterdam project to 'ecoart' or environmental art practices that has, at its core, to rearrange part of nature to enhance its aesthetics to the spectator. In other words it is art that helps to improve the relationship with the natural world. While environmental art is mostly ephemeral by nature, the BeeCare Amsterdam project in contrast searches for understanding and hands-on inclusion of the local citizens to make the created circumstance self-propelling and sustainable in the long term. Processes entail much research and consultation, collaborating with specialists such as beekeepers and flora experts. If a utopian vision receives support from scientists, policy makers, educators and ultimately all the individuals in the community it becomes, step-by-step, a fact on the ground in the neighbourhood. BeeCare Amsterdam has comparable aspects and methods to a number of scientific research projects and to projects that are initiated by other artists and artist-collectives. It is a site-specific art intervention to question and change a particular situation. By rearranging and establishing a new situation it enables processes to take place that lead to an 'utopian condition'.
Methods and activities
BeeCare Amsterdam already runs several gardens in the neighbourhood and independently or in collaboration with other green initiatives, provides workshops on bee hotel making, city farming, permaculture, guerrilla gardening and initiates or engages in public events. In other words, part of the project is deploying diverse series of practical activities for and with the locals. The experiments with the honey bee colonies are performed on roof tops or in inner gardens. The reoccurring Bee-film-festival at the local cinema 'Cavia' increases the awareness on the general problematic. BeeCare Amsterdam is regularly invited to partake in public events to present the project, give advice or support other initiatives. In November 2014 we presented the project in the framework of 'Project Anywhere' at the Parsons School of Art and Technology, NY, NY. Two specially designed objects, the Bee hotels and the Veggie Rockets are strategically installed on people's balconies and in public space, respectively. Placing these objects are a significant step in advancing the project to its final stage. It provides the possibility to intensify the spread of indigenous strain seeds that are not manipulated or treated. These seeds are to grow flowers, edible plants and herbs, however,  trees, bushes and flower bulbs are regularly offered and distributed.
The Inner City as Nature Reserve
In 2013 the symposium on biological beekeeping was taking place and in 2014 the symposium with the title 'The inner city as nature reserve!' was held to inspire measures to improve an inner city biotope that equally adds to the well being of the people and to the pollinating insects alike.  Researchers came to the conclusion that a greener city environment that has been instigated through a 'bottom-up' initiative has remarkable effects on the health on people who inhabit the area and drastically reduces crime rates. A greener city environment enhances social cohesion. There is a certain urgency to create a new vocabulary that can cover aspects that are part of these transitions.
 Education and schools
Become an astronaut at school – Make your own GroenteRaket! Our planet is at the tipping point and urgently needs crew and no more additional passengers. The educational program is for primary and secondary schools and has a theoretical and practical leg. By engaging children in hands-on activities the urgency of the subject and the theory behind it becomes more comprehensive. This strategy of didactic measures lets us infiltrate in the local families in the neighbourhood by children building self-made objects and bringing supplied seed packages home to their parents.
Strategies to create new collaborative partnerships
Establishing new collaborative partnerships are based on the idea of crowd funding, however not with money but with engagement and deeds instead. For this very reason we developed aesthetic and practical objects for placement in public space, in people's back yards and balconies. These objects are made partly with recycled and partly with eco materials. One of them are modular bee-hotels that need to find strategic placements in every inner housing block. Solitary Bees have a far lesser radius compared to honeybees for food collection, in some cases only 50 meters. Another object is the Veggie Rocket, 'GroenteRaket'. They are vertical mini gardens to grow fruits and vegetables that include a worm based decomposing system for kitchen scrapings. Apart from the aesthetic value they need minimal maintenance and are vandal prove. Most important are their strong educational components that are meant to inspire a concrete change of attitudes within citizens in the neighbourhood. They have been developed in the Spring 2013 and tested over the years at our GroenteRaket Laboratory with the GroenteRocketeers. The objects are regularly evaluated and undergo further enhancements. We plan to install them in large numbers in public space in the neighbourhood and are currently setting up test installations.
Scientific collaborations
The BeeCare Amsterdam project regularly consults with specialists from the field and its advisory board is consisting of entomologists, biologists and ecologists. Bob Ursem, director of the TU Delft Botanical Garden, Jeroen van der Sluijs, University of Utrecht, Environmental Sciences, Menno Reemer, Naturalis in Leiden and researcher on systematics and faunistics of Syrphidae (Diptera), Gert de Jong, Amsterdam City ecologist, Soesja van Gelderen, UvA, Biologist and Master c. Ecology and Evolution, with the focus on solitary bees in Amsterdam, Jelle Harms, Spatial Ecologist and GIS specialist and Oscar Vrij, chairman Bijenpark Amsterdam.
Committee of recommendation
The committee of recommendation consist of Prof. Dr. Marinus J.Sommeijer, Department of Biology, Utrecht University, Marc van den Tweel, Director at Natuurmonumenten, Maas Goote, Director at IUCN NL, Taeke Kuipers, Director at Stichting Hortus Botanicus Amsterdam.
Support
The credentials for starting up BeeCare Amsterdam through financial support are the City of Amsterdam Stadsdeel West, Province Noord-Holland, Prins Bernhard Fonds, GWL terrain, De Alliantie, ABC Alliantie West, Groen en Doen.
Updates
For regular updates join http://www.facebook.com/BeeCareAmsterdam or if you got pressing questions mail us at BeeCare@blindpainters.org.